Case: Tanaka Manufacturing Co.
Outcome: Apply cyber-physical system with production planning and use in the actual factory, increasing productivity by 15% for small quantity lots in a variety of products
Tanaka Manufacturing Co., Ltd. designs and manufactures metal press dies and metal press parts, GD.findi was implemented as a simulation in order to improve productivity for small lots of various products. The company realized a 15% improvement in productivity by planning the production process ahead and manage factory activities that results in the actual field.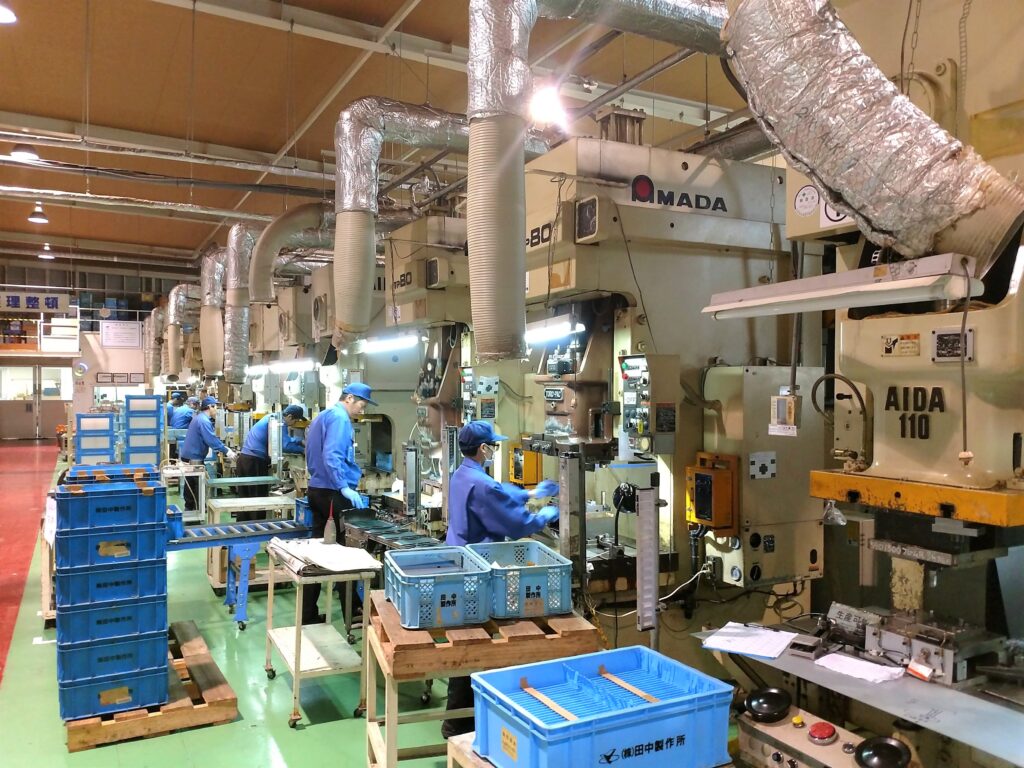 Analog production planning that was hindering productivity improvement
Mr. Tanaka Seisakusho has been in business for 55 years and has 130 employees. The company is a manufacturer for pressed metal parts of electrical and automotive components. Particularly, with its unique die technology, the company handles a wide variety of small-lot production to mass production, including design and fabrication of precision sheet metal, stamping of precision parts, assembly processing, and consignment processing.
The problem for the factory was the low productivity of the single-shot line for small-lot production of a wide variety of products. The company had been manufacturing mold parts one by one, but with the needs to change molds, adjust for accuracy, respond to sudden rush orders had become major issues to increase the productivity.
"There were about 500 kinds of products made in small lots, and the number of pieces ranged from 1 to 3,000, therefore the production orders were extremely complicated. Every morning, the factory manager would write down the production plan for the day on the whiteboard, but due to changes in delivery dates and sudden orders, the plan was repeatedly rewritten, and by evening, it was so confusing that no one could understand what was written." said President and Representative Director of the company.
Even for the entire plant, we had problems with cost and lead time due to the lack of connection between the large production plan and the daily production plan. Therefore, we introduced the kanban system about 15 years ago, however, we encountered problems such as the inability to handle sudden orders. It seems that the kanban system was not suitable for our kind of production system," said Mr. Tanaka.
A partner who is familiar with manufacturing solve the problem.
With production planning and factory sites in conflic, Mr. Tanaka came up with the idea to "link production management and manufacturing in a timely manner. However, there was no one in the company who was familiar with information systems. The company started looking for a partner with digital technology that could comprehend the problems of the production plant. That's when we found Lexer Research, they provide us "GD.findi", a production simulator.
Before we had used GP4, the forerunner of GD.findi, to develop a 3D work manual, and it was well received by our customers. At that time, I realized that the Lexer Research was well versed in production sites. We thought that software created by Lexer who knows the manufacturing industry and production lines would be a good fit," recalls Mr. Tanaka.
Tanaka Manufacturing's goal was to create an "operation management system" that would manage production plans and production sites in real time data.
Specifically, "GD.fini MD-MES", a GD.findi's work management system that sends work instructions to smartphones and collects data on the work completion report. Also, "GD.fini Predictive Minig", a massively parallel simulation system, is used to create an optimal work plan in real time and send instructions to the workers' smartphones, and display the overall progress on a large screen display.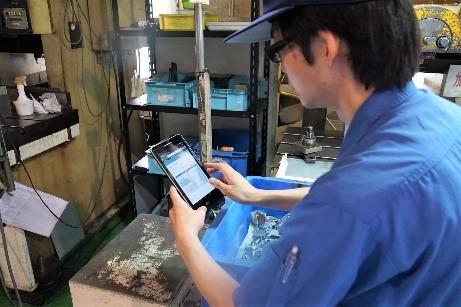 After confirming that factories were able to link information and production planning on the shop floor as they intended, the company introduced the same system to 12 single-shot lines, and throughout the next year, the company expanded the scope of GD.findi application to front-end and back-end processes.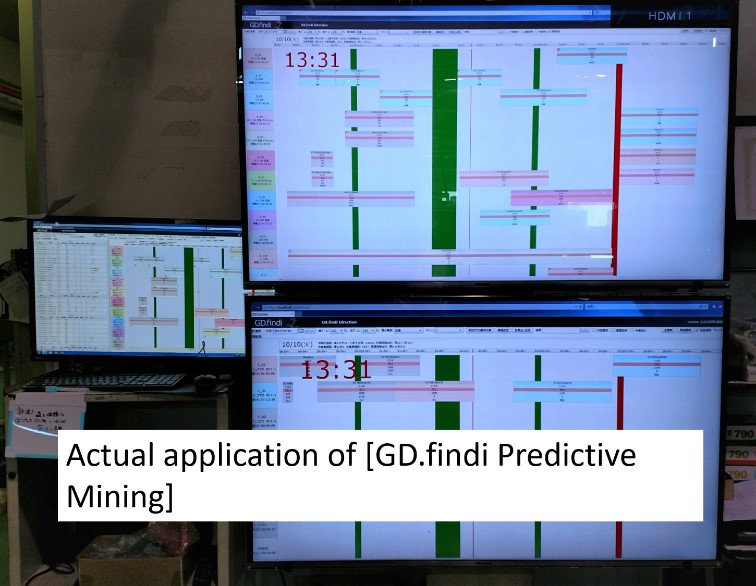 GD.findi Systemization changes operations and improves productivity by 15 percent.
This operation management system has drastically changed the flow of work at the factory site. In the past, the actual performance outcomes were only available after the work report was compiled at the end of the day, so workers had to work overtime to plan the next day's production. Now that the data is processed in real time, the overtime work norm has almost disappeared. In addition, the daily work report itself is no longer necessary because the performance data is collected while working.
In fact, the factory's productivity has improved significantly. We are now able to achieve the same volume of work without working overtime. From that point of view, we can see that productivity has improved by about 15%," said Mr. Tanaka.
Moreover, the real-time transmission of work change instructions has reduced work errors. "In the past, we would mistakenly bring in a die that could not be installed in the press machine. Now, the system alerts us in advance, so we don't have to make such mistakes at all" said Mr. Tanaka.
What is even more important is that the work data is stored and can be used later for quality control activities. By analyzing the data, the company has created a database of areas that are prone to mistakes and areas that need attention and shows the quality control sheets on a screen display during morning meetings to give specific work instructions to the workers.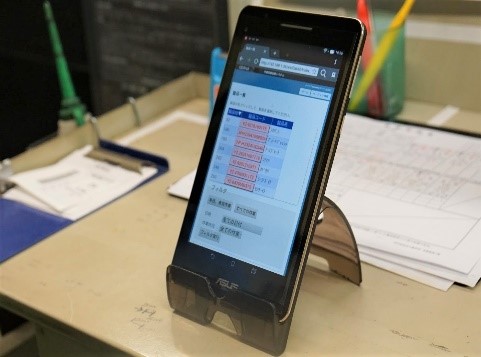 The opinion to the change in workflow was always "it's better if it's easier". After we implemented GD.findi, workers were happy to be able to go home earlier. Meanwhile, many requests start to rise from the factory managers about GD.findi, and the staff at Lexer Research understood and responded to them quickly, which helped us to deepen our relationship."-said Mr.Tanaka.
Promote further business innovation by expanding the scope of application
The introduction of GD.findi has not only reduced overall time, but also had a significant effect on the mental support of the workers. The fact that each of us has a clear idea of what we need to do next is very significant. Since we can see the overall progress from the display, we know how much more we must do, which reduces our mental load," said Mr. Tanaka.
The systematization has also produced results that is appealing to our customers. When we show our customers that we are working on this kind of system, they are surprised and say, "I have never seen a press factory doing this before." This has helped us to gain their trust." said Mr.Tanaka.
Mr. Ohata of the Engineering Department said: "My job is to determine the work process for mold production based on the order details. GD.findi helps me with the planning phrase, such as rearranging the schedule, so I can concentrate on thinking about the work. GD.findi is like a partner who supports my thinking."
Mr. Nishio, who is in charge of production management said: "I see a lot of potential in GD.findi, besides its ability to grasp the situation on the shop floor. GD.findi is a friendly competitor for me, I am enjoying the competition of ideas with GD.findi.
The company plans to expand the scope of application of GD.findi to the design and production of molds, as well as from sales to mass production lines. "Lexer Research can advise us on digitalization based on their understanding of analog technology, and GD.findi is a system that we can implement base on our own situation. I am sure that any manufacturing company will see results if they proceed step by step," Mr. Tanaka said. GD.findi is sure to be a powerful weapon for manufacturers who are trying to reform their operations.